A leadership program that really makes a difference. Results-Centred Leadership (RCL) is based upon bringing out the very best in people and coaching them to succeed in an environment of respect and trust.
RCL enables the organization and everyone in it to achieve superb results.
Results are achieved by providing leaders with the skills needed to increase productivity through people.
Some key components of RCL are the concepts of:
Mutual agreement
Coaching for Success
Focusing on bringing out the best in people
Developing an environment of mutual respect and trust
Leadership skills are learned by few and transferred to many
Supports the company's vision and goals throughout the organization
Fosters personal accountability in obtaining results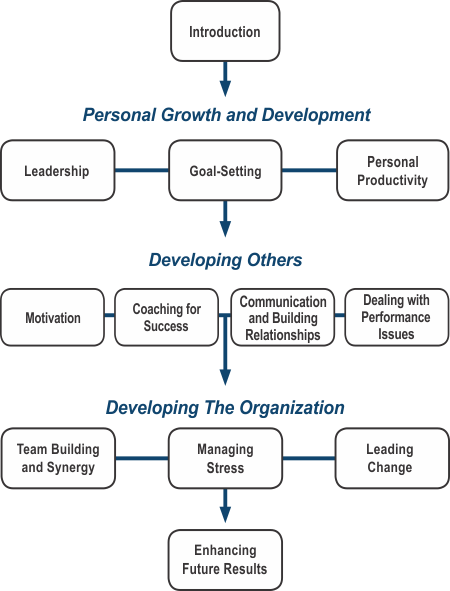 RCL focuses on three main areas:
Personal Growth and Development
Developing Others
Developing the Organization through the introduction and/or development of coaching within an organization
Major Benefits to the Individual:
Improved productivity and results
Improved customer/client service
Enhanced teamwork and co-operation
Motivated and dedicated people
People embracing responsibility and being accountable "without prompting"
Conflict resolution and consensus building
Major Benefits to the Organization:
Feeling more in control of time
Reduced stress
Improved goal-setting
Enhanced self-image
The confidence to lead people
Improved listening skills
The Format and Features:
Provides step-by-step practice and exercises to reinforce key concepts
Written and recorded materials — for easier learning and retention
Based on practical experiences for today's business environment
Provides for both business and personal applications — providing the opportunity for a more balanced life